Have you been looking for the best one Day in Frankfurt itinerary?
We've got you covered!
The Frankfurt city airport is one of the biggest airports in Germany. Therefore, many visitors arrive in Frankfurt and have a layover of 24 hours.
So what can you do in Frankfurt in one day, where should you go and what can you see?
Anna worked in Frankfurt for a couple of months, so she had the chance to explore both the touristic and local sights.
To be honest, Frankfurt isn't our top choice among German cities. For instance, the main train station isn't exactly a pleasant spot to spend time.
However, there are a few captivating spots in Frankfurt that are definitely worth a visit. In this article, we'll guide you through all the essential details to make the best out of your 24 hours in Frankfurt!
This blog post may contain affiliate links. If you make a purchase using one of these links, we may receive compensation at no extra cost to you.
🤩 Make the most of your 24 hours and purchase the Frankfurt Card
24 Hours in Frankfurt
We've put together a walking tour itinerary for you.
This map includes all of our favorite cafés and restaurants that you don't want to miss! You need to zoom in to see the walking tour!
Morning: Exploring the Old Town in Frankfurt
Start your day by visiting the Römerberg, a historic square in the heart of Frankfurt's Old Town.
The Römerberg is home to the Frankfurt City Hall, a beautiful building with a rich history. Admire the architecture and take a stroll around the square, where you'll find many cafes and shops.
The Iron Bridge (Eisener Steg) in Frankfurt is one of the city's landmarks.
This charming pedestrian bridge has been a part of Frankfurt for over 140 years as it was built in 1868. It is widely regarded as a symbol of peace and unity between the city and its citizens, connecting them together.
On both sides of the bridge, you can see the Main River and the Frankfurt skyline.
If you are traveling with your loved one, consider bringing a lock and "lock" you love here as many other lovers from around the world.
🚢 If strolling around isn't your preference, why not opt for a relaxing 1-hour boat tour on the Main River?*
After strolling over the Eiserner Steg, make sure to explore the Alte Nikolaikirche, an ancient church with exquisite stained glass windows and a serene ambiance.
Constructed in the 13th century, this church has withstood numerous wars and natural calamities.
Following that, take time to discover the Neue Altstadt, a reconstructed section of the Old Town showcasing delightful buildings and shops. This area had been devastated during World War II but has been restored in recent times to recapture its original charm.
Enjoy a leisurely walk along the cobblestone streets, marvel at the architecture, or pause at one of the numerous shops and cafes for a good coffee.
Kaiserdom
Finally, hike up the stairs to the top of the Kaiserdom, Frankfurt's famous cathedral, for a stunning view of the city.
The Kaiserdom is one of the most important churches in Germany and has been the site of many coronations and important events throughout history.
The climb to the top can be a bit steep, but the view is well worth it. Enjoy the panoramic view of the city and take some time to appreciate the beauty of Frankfurt's Old Town.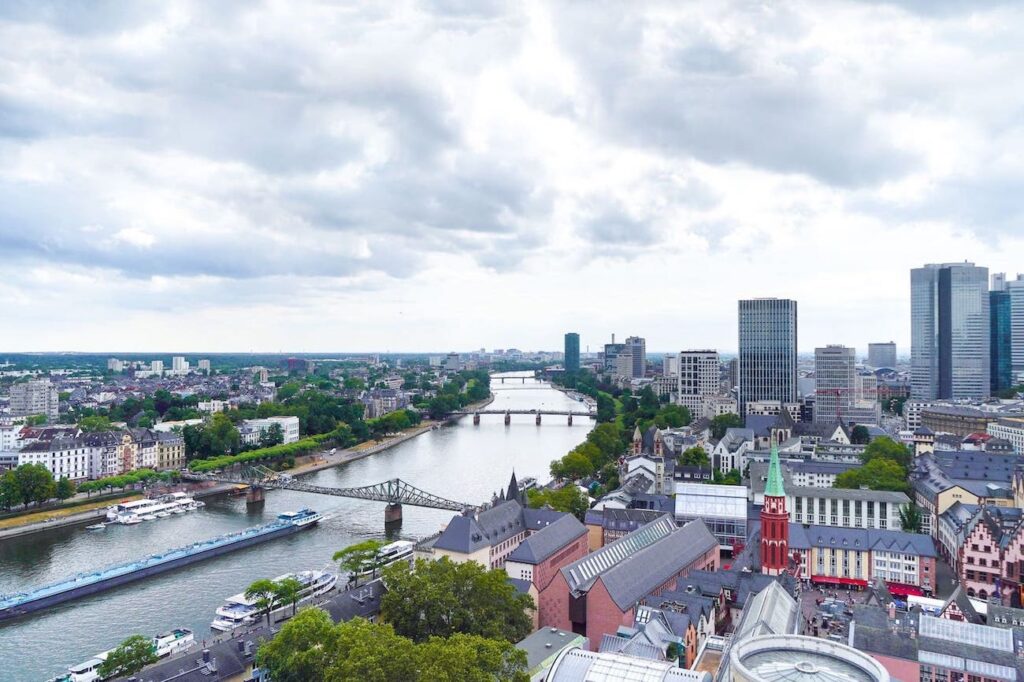 Lunch: Trying Local Food at the Kaisermarkthalle
Isn't it time to enjoy some good food, now? Head to the Kaisermarkthalle, which is located in the heart of Frankfurt to blend in with the locals and enjoy some fresh food.
Kaisermarkthalle
The Kaisermarkthalle is a bustling indoor market, which is a popular spot for locals and tourists alike. It offers a variety of local and international food options, vegetarian dishes, fresh seafood, homemade pasta, and much more.
Take some time to wander around and explore the different stalls before deciding on what to eat. Whatever you choose, you're sure to find something delicious at this bustling market.
We recommend trying local specialties such as Frankfurt's famous green sauce or traditional German sausages. The green sauce is made from seven different herbs and is typically served with boiled potatoes and hard-boiled eggs. It's a refreshing and flavorful dish that's perfect for a mid-day meal.
And if you're a fan of sausages, be sure to try the traditional German bratwurst or currywurst, which are both popular options in Frankfurt.
A typical beverage in Frankfurt is "Applewoi". If you are visiting for the first time, you may want to try it. Personally, it is not our taste. So consider asking for a tasting glass or just order one glass if you are not sure.
A good alternative is always a German lemon beer.
For dessert, it's best to hold off here! We'll guide you to another fantastic spot for coffee and dessert that comes with a stunning view.
Dessert: Galeria Skylounge
It is is self served restaurant (a very nice one!). First, you order your food and drinks and when you leave you pay the bill either in cash or with your credit card.
Afternoon: Visiting the Financial District
After lunch, it's time to explore Frankfurt's modern financial district, which is home to impressive skyscrapers and banks.
This district provides a sharp contrast to the historical Old Town, offering you a glimpse into Frankfurt's diverse facets.
A standout feature of the financial district is the Main Tower, an observation deck providing breathtaking views of Frankfurt's skyline.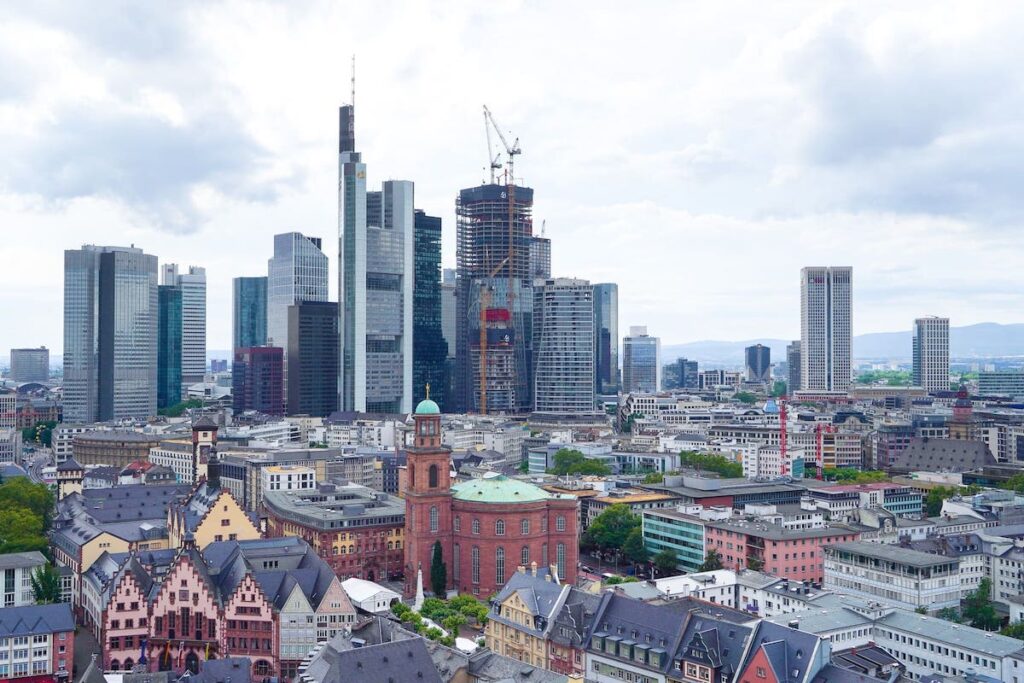 Once you've soaked in the Main Tower's views, venture to Zeil, a hub of upscale fashion and designer boutiques.
Shopping at the Zeil
Zeil stands as Frankfurt's primary shopping avenue with renowned brands alongside charming local boutiques. Dedicate a while to perusing the stores and collecting souvenirs or thoughtful gifts for loved ones.
If you're looking for a break from shopping, head to one of the nearby cafes or restaurants for a coffee or a bite to eat. The financial district has many options for dining and drinking, from trendy bars to upscale restaurants.
Have fun and enjoy the modern atmosphere of this vibrant part of Frankfurt.
Evening: Dinner and Drinks
End the walking tour at the Opernplatz with a delicious dinner at one of the city's many restaurants.
The Opernplatz is a beautiful square located in the heart of the city. Here, you can find a variety of restaurants serving everything from local specialties to international cuisine.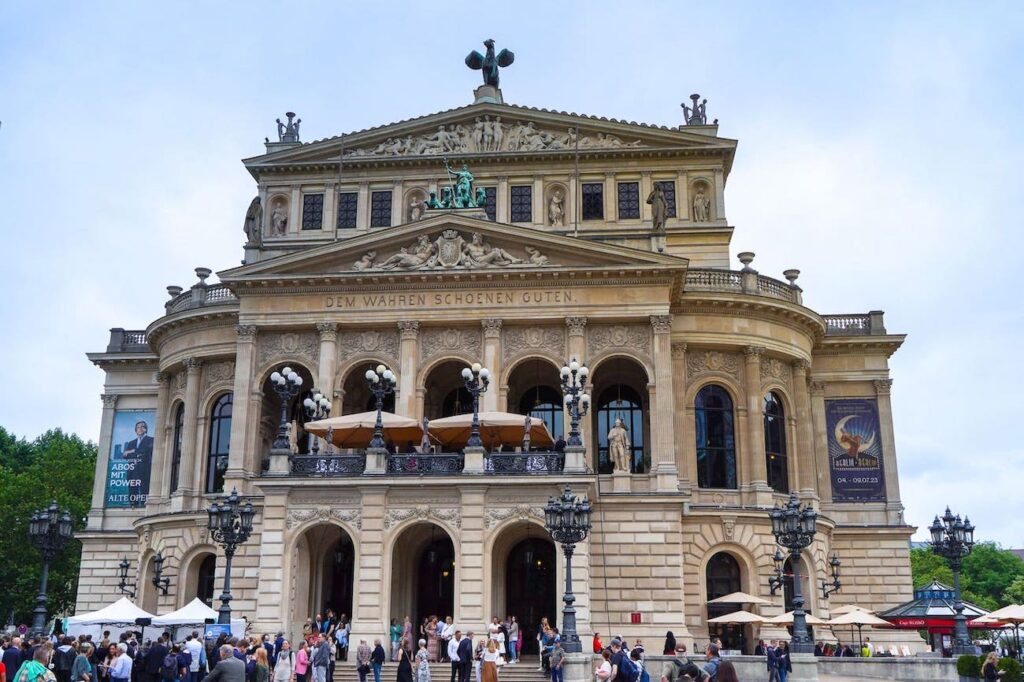 After dinner, enjoy a drink at one of Frankfurt's many bars or pubs: If you're looking for a lively atmosphere, head to Sachsenhausen, a neighborhood known for its many bars and nightlife options.
Alternatively, if you're looking for a more upscale experience, head to a rooftop lounge for a stunning view of the city at night. Many of Frankfurt's high-end hotels have rooftop bars and lounges that offer panoramic views of the city skyline.
Best Time to Visit Frankfurt
There is no doubt that the best time to visit Frankfurt is during the summer months between May to September.
The city not only offers a variety of sightseeing opportunities, but also festivals and cultural events that take place during the summer months.
The Frankfurt Book Fair and also the Oktoberfest are two major events bringing people from all over the world to Frankfurt.
The months of May to August have pleasant temperatures, perfect for outdoor activities such as walks along the Main River or exploring the Römerberg.
Where to Stay in Frankfurt
1. NH Collection Frankfurt Spin Tower*: If you are looking for a hotel in Frankfurt that combines comfort and convenience, then NH Collection Frankfurt City is the right choice for you. The hotel stands out with its bright and clean rooms, equipped with modern design and comfort. Guests value the The stunning view of the city. The friendly staff ensures that you feel completely comfortable during your stay. Another advantage is the uncomplicated luggage storage, which makes your stay even more pleasant. This hotel is very close to the Frankfurt Trade Fair, which makes it the perfect choice for business travelers.
2. The Westin Grand Frankfurt*: Located in the heart of downtown Frankfurt, The Westin Grand Frankfurt is an excellent choice for first-time visitors. This luxurious hotel offers a modern and elegant atmosphere with comfortable amenities and easy access to restaurants and public transportation. The best part: You can relax in the sauna and the pool once you are done with exploring Frankfurt.
3. Sofitel Frankfurt Opera*: Situated in the heart of Frankfurt, the Sofitel Frankfurt Opera exemplifies luxury and sophistication. This 5-star hotel, with its spacious rooms and elegant interiors, serves as a perfect retreat from the city life. Each room comes equipped with a complimentary minibar. The hotel boasts an indoor pool inviting you to go for a couple of lap. The staff is committed to going the extra mile for every guest.


Getting Around Frankfurt
Frankfurt benefits from an efficient public transportation system, making it incredibly convenient to navigate the city's top attractions. Exploring all the key sites is as simple as hopping onto a bus or train.
You can purchase tickets at one of the many ticket machines in the city or online.
Bicycles are also a good option for getting around, as there are bike lanes throughout Frankfurt.
🤩 You can use the Frankfurt Card and use the public transportation*
FAQs: 24 hours in Frankfurt
How many days in Frankfurt?
If you're tight on time, one day is enough to enjoy Frankfurt's highlights. This timeframe lets you explore modern and historic areas and savor local delights for a comprehensive experience.
How much money do I need for 1 day in Frankfurt? 
The average amount of money you need for 1 day in Frankfurt varies based on preferences. Budget travelers can manage with around €50-€100, mid-range travelers might spend €100-€200, and luxury travelers could require €200 or more for a comprehensive experience including meals, transportation, and attractions.
What means of transportation are available to get around in Frankfurt?
In Frankfurt, you have various transportation options for getting around. The city boasts an efficient public transportation network, including trams, buses, and trains. Additionally, taxis, bike rentals, and walking are convenient ways to explore the city and reach its attractions.
Are there free activities to do in Frankfurt?
There are many free activities to do while visiting Frankfurt, such as taking a tour of some of the city's churches and cathedrals, exploring parks like Günthersburgpark, taking a stroll along the Main riverbank, or simply people-watching in one of the bustling squares.
Final Thoughts: 24 hours in Frankfurt
One day is enough to explore the Old Town, the financial district as well as some old churches in Frankfurt. If you are tired from walking, jump on a boat and enjoy the Main river.
And as the sun sets, you'll have the opportunity to savor a delightful dinner and drinks against the backdrop of the city's stunning skyline.
But remember that Frankfurt is just one many cities in Germany which are worth visiting.
Popular day trips from Frankfurt are: Heidelberg, Rothenburg ob der Tauber, Nuremberg or Würzburg.
Read More: