You are visiting Germany for the first time? Then you have come to the right place!
Germany is a country that has something for everyone. Whether you are a history buff, a foodie, or a nature lover, Germany has it all.
Even as Germans, we are blown away by our country's beauty, culture, and history. From the bustling cities to the charming villages, Germany offers a unique experience that is unlike any other.
And of course, one thing that we love about Germany is it's delicious food.
German cuisine is hearty, delicious, and perfect for hot sommer and cold winter days. From sausages and sauerkraut to schnitzel and spätzle, there is no shortage of delicious dishes to try.
But don't worry if you are vegan or vegetarian as we are. There are plentiful vegetarian options on the menu as well.
As first-time visitors, we highly recommend trying some of the country's traditional dishes, as well as some of the local specialties that you can only find in certain regions.
preparing for your trip
Before embarking on our trip to Germany, there are a few important things to consider. In this section, we will cover getting your visa, booking your accommodation and packing essentials.
Getting Your Visa
Depending on our country of origin, you may need a visa to enter Germany as a tourist. It is important to check the visa requirements and apply for the appropriate visa well in advance of our trip. The German embassy or consulate in our home country can provide us with the necessary information and application forms.
Booking Your Accommodation
Booking our accommodation in advance can save us time and money. There are many options available, from hotels and hostels to apartments and vacation rentals (= "Ferienwohnungen"). Websites like Booking.com, Airbnb, and Expedia can help us find the best deals and reviews from other travelers.
When choosing our accommodation, it is important to consider factors such as location, amenities, and price. You may want to stay in a central location to be close to the main attractions, or in a quieter neighborhood for a more peaceful experience. You should also check if breakfast is included or if there are any additional fees for cleaning.
Packing Essentials
When packing for our trip to Germany, you should consider the weather and activities you have planned. In general, Germany has a temperate climate with warm summers and cold winters. You may want to bring lightweight clothing for the summer months and warm layers for the winter.
Other essentials to pack include a power adapter for our electronic devices, comfortable walking shoes, a waterproof jacket or umbrella, and a travel-sized toiletry kit. It is also a good idea to bring a small backpack or daypack to carry our essentials while exploring the city.
But don't worry: There are plentiful clothing stores if you have forgotten something!
In summary, preparing for our trip to Germany involves getting our visa, booking your first accommodation in advance, and packing essential items for our journey. By taking the time to plan ahead, you can ensure a smooth and enjoyable experience in Germany.
Arriving in Germany
When you arrive in Germany, there are a few things we need to keep in mind to ensure a smooth transition.
Here are some sub-sections to help guide you:
Navigating the Airport
Upon arrival at the airport, you should follow the signs to immigration. You may need to fill out a customs declaration form, so it's a good idea to have a pen handy. After clearing immigration, we can collect our luggage and proceed to the customs checkpoint.
If we need to exchange currency, you can do so at the airport. However, it's generally recommended to use an ATM or exchange money at a bank for better rates.
Getting to Your Accommodation
Once you've cleared customs, you can make our way to our accommodation. If you have arranged for a pick-up service, your driver will be waiting for you at the arrivals hall. Alternatively, you can take a taxi or use public transportation.
If we're taking public transportation, you can purchase a ticket at the ticket machines located in the airport. You can pay the tickets at the machines with credit card or with cash. You need to buy your ticket before boarding the train. If you did not have enough time to get a ticket in advance, then head directly to the ticket inspector in the train. He / She can print out a ticket but you can only pay with credit or debit card.
Getting Around Germany
Germany has an extensive public transportation network, including buses, trains, and trams. You can purchase tickets at ticket machines located at most stations or online. If you are taking the local trams, it is important to validate your ticket before boarding and to keep it with us throughout our journey.
If you plan on driving in Germany, we will need to obtain a valid and international driver's license. If you are from the US, it is important to note that we do not count in miles but in kilometers.
Germany
Must see & Try
When exploring Germany for the first time, there are so many sights to see, foods to try, and cultural experiences to have.
Here are some of our favorite things to do in Germany when you are a first time visitor:
Must-See Sights in Germany
Germany is full of landmarks, natural wonders, and historic sites. Some of the must-see sights include:
German dishes you need to try
German dishes you need to try when visiting for the first time:
10 Beverages you need to try
Germany is famous for its beer, and trying a variety of local brews is a must-do when visiting.
However, there are also other beverages to try, such as Apfelwein (apple wine), Glühwein (mulled wine), Radler (lemon beer) and Riesling wine.
For non-alcoholic options, try the refreshing and tangy Berliner Weisse or the classic German hot chocolate, known as Heiße Schokolade.
Experiencing German Culture
Germany has a rich history and culture that is worth exploring. Some of the best ways to experience German culture include:
Tips for your first trip to germany
When traveling to Germany for the first time, there are a few things to keep in mind to ensure a smooth and enjoyable trip.
Here are some tips to help you make the most of your visit:
Language Barrier Solutions
While many Germans speak English, it's always a good idea to learn a few basic phrases in German.
This can help you navigate public transportation, order food at restaurants, and interact with locals.
Some useful phrases to know include:
Guten Tag (Good day)
Danke (Thank you)
Bitte (Please)
Entschuldigung (Excuse me)
Sprechen Sie Englisch? (Do you speak English?)
If you're still having trouble communicating, consider downloading a translation app such as Google Translate or carrying a pocket dictionary with you.
Money Matters
Germany uses the euro (EUR) as its currency. While credit cards are accepted in larger cities, it's always a good idea to carry some cash with you, especially if you plan to visit smaller towns or rural areas. ATMs are widely available, but be aware that some may charge fees for withdrawals.
It's also important to note that tipping in Germany is generally less common than in other countries. While it's always appreciated, it's not expected to leave a large tip at restaurants or for taxi rides. A small tip of around 5-10% is usually sufficient.
And as Germans we can say, we only tip when we have been satisfied with the service, if there have been hick-ups with the service crew, it is ok that you do not leave a tip. But please consider giving feedback to the staff if something happened which made you unsatisfied.
Etiquette and Customs
Germans value punctuality (A LOT!). German punctuality means that you are actually not on time but rather 10 minutes early. In fact it is a matter of respect to show up on time for appointments and meetings.
Also Germans value personal space. You will probably notice that people in public do not stand very close to each other.
When greeting someone, it's customary to shake hands and make eye contact. It's also polite to say "Guten Appetit" (enjoy your meal) before eating, and "Prost" (cheers) before drinking.
By keeping these tips in mind, you can have a successful and enjoyable trip to Germany.
10 day itinerary for first timers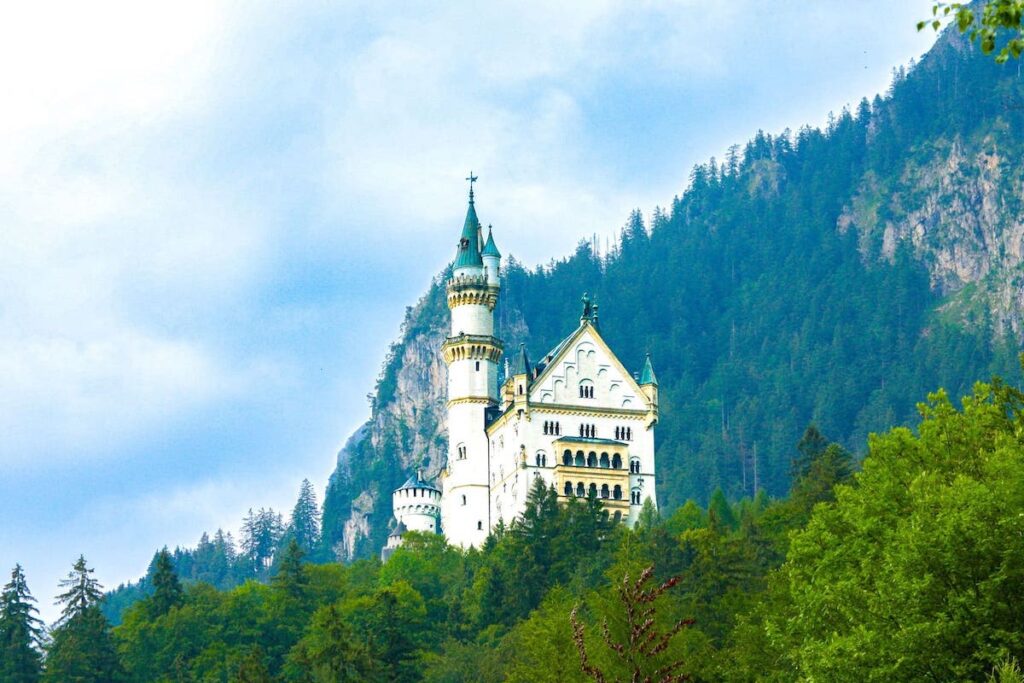 First time in Germany: 10 – Day Itinerary
Embark on a 10-day journey through Germany, starting in the bustling capital of Berlin.
Discover the vibrant history of the East in Dresden, with its stunning architecture and cultural treasures.
Immerse yourself in the romantic atmosphere of Rothenburg ob der Tauber, one of Germany's most picturesque towns.
Head to Munich to marvel at Neuschwanstein Castle and explore the city's Bavarian charm.
Experience the enchantment of Heidelberg's ancient castle and stroll along its idyllic streets. In Cologne, visit the awe-inspiring cathedral and indulge in the city's vibrant arts scene.
Finally, end your trip in the dynamic city of Hamburg, exploring its maritime heritage and modern attractions.
This itinerary offers a diverse and enriching experience of Germany's rich history, natural beauty, and vibrant culture.
Germany
Frequently asked questions
We answer the most common questions about Germany