Are you ready to discover the best things to do in Göttingen? Alright, here we go!
As a local born and raised in Göttingen, I would love to show you my hometown.
There are plenty of things to do in Göttingen. While creating this list, I could have kept going and going.
But I compiled my list of top tourist attractions in Göttingen and some local tips.
From wandering through the narrow cobblestone streets of the old town to unwinding in the greenery of local parks and spas, I will be your guide for the best tourist attractions in Göttingen.
And be sure to pack your most comfortable shoes because Göttingen is the perfect city to explore on foot or bike.
Historic Sites in Göttingen
When visiting Göttingen in Lower Saxony for the first time, you probably want to explore the historic sites.
Here are some of our top tourist attractions in Göttingen:
1 Old Town Hall (Altes Rathaus)
The Old Town Hall is a stunning building in the city center. Built in the 13th century, it has been in use ever since.
Follow the steps on the left-hand side to enter the city hall and take in the breathtaking sights. Look at the ceiling and the detailed paintings on the walls dating back to medieval times.
The tourist information is just across from the Old Town Hall. If you need maps or even an umbrella, you can rent them there for a small fee.
2 Gänseliesel
The Gänseliesel is an absolute top attraction when visiting Göttingen. You can find this charming statue of a girl holding a pair of geese on the central marketplace in front of the Old Town Hall.
The Gänseliesel is a tribute to the goose girls who were a prominent part of the city's image at that time. Elisabeth was a common name, which is why the nickname Liesel was given to them.
This supposedly shy-looking girl is the most kissed in the city. It has become a tradition for newly-minted PhDs to kiss the Gänseliesel upon receiving their title and then hand her a bouquet.
The Gänseliesel has been a symbol of the city since 1901. However, the statue on the fountain is only a replica. You can find the original Gänseliesel in the city museum.
Today, the Gänseliesel also serves as a convenient meeting point. When meeting with friends, arrange to meet here – everyone knows exactly where it is!
3 Johanniskirche
The Johanniskirche, with its two imposing towers, is a magnificent church in the heart of Göttingen.
It was built in the 14th century between 1300 and 1344. The Johanniskirche is the oldest and largest church in Göttingen.
It is also home to the largest bell in Göttingen from 1828. The oldest bell, dating back to the 14th century, is located in the south tower and still strikes the hours today.
The church is made of sandstone in Gothic architecture, and the two highlights are certainly the towers that measure over 55 m.
Every Saturday, year-round, visitors can climb up for a small fee. Visitors can admire the intricate details of the church's interior and attend services.
Every year in November and December, the Göttinger Christmas Market is around the Johanniskirche.
4 Jacobi Church
The Jacobi Church is yet another impressive church in Göttingen.
It was constructed during the 14th and 15th centuries and boasts a 72-meter tower with a Baroque copper dome, making it one of the tallest building in Göttingen.
The interior has been restored in the Renaissance style, adding to its grandeur.
From March to December, visitors can enjoy a half-hour of organ music on Fridays at 6 pm, usually with free admission.
5 Bismarckturm
Okay, here is another tall building in Göttingen: The Bismarcktower (= Bismarckturm).
You might be wondering who Bismarck was. He was the first chancellor of the German Empire until 1890.
And why is there a tower in Göttingen named after him? Well, Bismarck studied law at the Georg August University for about a year.
However, Bismarck had quite a wild youth and soon found himself in the Göttinger Karzer (prison) – but this is a different story!
The Bismarckturm is a monument to Bismarck and was completed in 1896, standing at 32 m tall.
Interestingly, Bismarck never visited his tower in Göttingen.
But nowadays, visitors can climb the tower until September 30th every Saturday, Sunday, and on bank holidays from 10 am to 6 pm.
6 Börner Viertel
The Börner Viertel is a historic neighborhood in Göttingen.
Right in front of the Börner Viertel in Barfüßerstraße is the House of Abel Bornemann, one of the most beautiful half-timbered houses in Göttingen. The house dates back to the 16th century, and its architecture features elements of the Renaissance and Gothic elements.
Please take a moment to admire the beauty of this building!
Walk through the gates, and you find yourself in a small passage with a café and a cozy courtyard.
7 Junkernschänke
Just a couple meters from the Börner Viertel is another stunning half-timbered house, the Junkernschänke. It is one of the most popular photo motifs in Göttingen.
Take a closer look at the Junkernschänke's facade. You can discover motifs from the Bible, coats of arms, and zodiac signs. You can see the builder and his wife on the corner post.
8 Wilhelmsplatz
The Wilhelmsplatz, or as we locals like to call it, the Willi – is one of the local spots in the center of Göttingen to hang out.
There are plenty of benches to sit on. You will always find a spot. And if you are feeling hungry, there is a kebab restaurant that's been one of my favorites for years.
Just across from the Wilhelmsplatz is the University Hall. This stunning building was constructed in the neoclassical style between 1835 and 1837 and remains a central building of the Georg-August University. Its large banquet hall is impressive.
Take a seat on one of the benches, people-watch, and rest your feet a bit after walking around Göttingen.
9 German Theatre (Deutsches Theater)
The German theater (Deutsches Theater, or in short only DT) building itself is a sight to behold. It was constructed in 1888/89 by the talented court master builder Gerhard Schnitger, who modeled it after the Grand Ducal Court Theater in Oldenburg.
If you understand German, the German Theater in Göttingen is a fantastic place to catch a theater show. For more modern pieces, check out the Junges Theater.
The atmosphere is incredible, and I have seen many amazing productions here. I highly recommend it!
10 Observatory (Sternwarte)
Did you know that the famous mathematician, astronomer, and physicist Carl Friedrich Gauss was the first director of the observatory in Göttingen?
He lived and worked in the building for almost 50 years!
Today, the observatory is a unique and historically significant building, that has been restored to its former glory. It is worth a visit if you are interested in the history of science.
Tours (in German) can be booked through the tourist information in Göttingen.
11 Nabel in Göttingen
The Nabel, located in the pedestrian zone of Göttingen, is a popular local meeting point.
It features the bronze sculpture The Dance (1982) by Bernd Altenstein from Bremen.
You can find benches surrounding the sculpture, making it the perfect spot to grab a coffee or ice cream and people-watch as passersby go about their day.
12 Local Farmers Market (Wochenmarkt)
Local. Organic. Sustainable.
These are the words that best describe the local farmers' market in Göttingen city center (Hospitalstraße), which takes place every Tuesday and Thursday from 8 am to 1 pm, and on Saturdays from 8 am to 2 pm.
The farmers' market is a fantastic place to experience the local products of the farms around Göttingen.
Here, you will find everything from freshly baked bread to organic fruits and vegetables, cheese, olives, and much more – all the yummy stuff!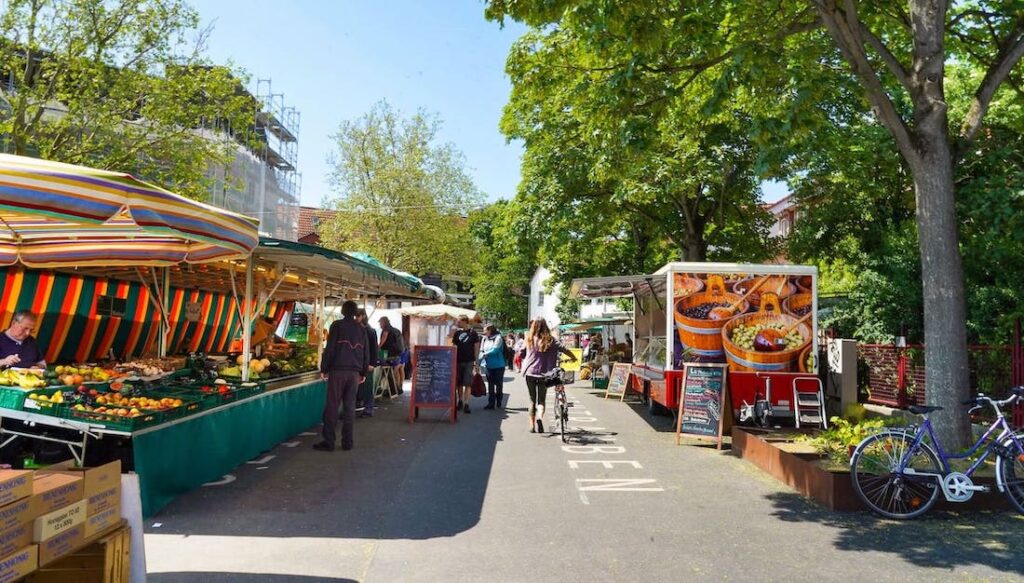 Museums and Memorials
Yes, of course, there are also museums in and around Göttingen. Just two name a few, here are two interesting ones for first-time visitors:
13 Göttinger Karzer (Prison)
The Göttinger Karzer is a former prison that was used by the University of Göttingen to detain students who violated university rules – like smoking on the streets publicly. Well, different times!
The museum features original prison cells, graffiti left by former prisoners, and exhibits that explain the history of the prison.
You can still see evidence of these past transgressions like charcoal and chalk drawings on the walls. These drawings are reminders of the students who once sat in those cells, and they offer a glimpse into what life was like for them back in the day.
As already mentioned above, one of the most famous prisoners was Otto von Bismarck. He was the first chancellor of the German Empire, who studied law for about a year in Göttingen.
14 Memorial of Concentration Camp in Moringen (KZ Gedenkstätte)
Visiting a former concentration camp can be a sobering and devastating experience.
But indeed, it is a powerful way to honor the memory of those who suffered and died in the concentration camps.
By remembering their stories and acknowledging the atrocities that occurred, we strive to prevent such cruelty from happening again.
It is our responsibility to learn from history and work towards a world of tolerance, understanding, and compassion.
Just a 20-minute drive from Göttingen, you find the KZ Gedenkstätte in Moringen. This concentration camp was built in 1933 and was one of the first in the Nazi Regime. It was in operation from 1933 to 1945.
The camp used to imprison political prisoners, Jehovah's Witnesses, homosexuals, and other groups that the Nazis deemed undesirable.
The museum features a range of exhibits that explain the history of the camp and the experiences of the prisoners who were held there.
Visitors can also explore the former campgrounds and see the remains of the buildings that used to house the prisoners.
Parks and Gardens
Göttingen is a city full of green spaces, and we highly recommend taking some time to explore the many parks and gardens.
15 Göttingen City Wall (Stadtwall)
The Göttingen city wall was built in the 14th century.
In 1763 the city planted linden trees along the wall. However, only one Linden tree remains from this period. You can find this approx. the 250-year-old tree between Angerstraße and Lohmühlenweg.
Today the 3 km long wall is a popular promenade around the historic old town.
Visitors can enjoy stunning views of the city from the top of the wall, and there are plenty of benches and green spaces to relax along the way.
16 Old Botanical Garden
The Old Botanical Garden of Göttingen University is one of the best things to do in Göttingen for nature lovers.
This historic botanical garden covers an area of 4.5 hectares and is home to a variety of plants and trees from around the world.
Visitors can stroll through the gardens and enjoy the peaceful atmosphere. You can attend one of the many events and exhibitions held here throughout the year. Admission is free.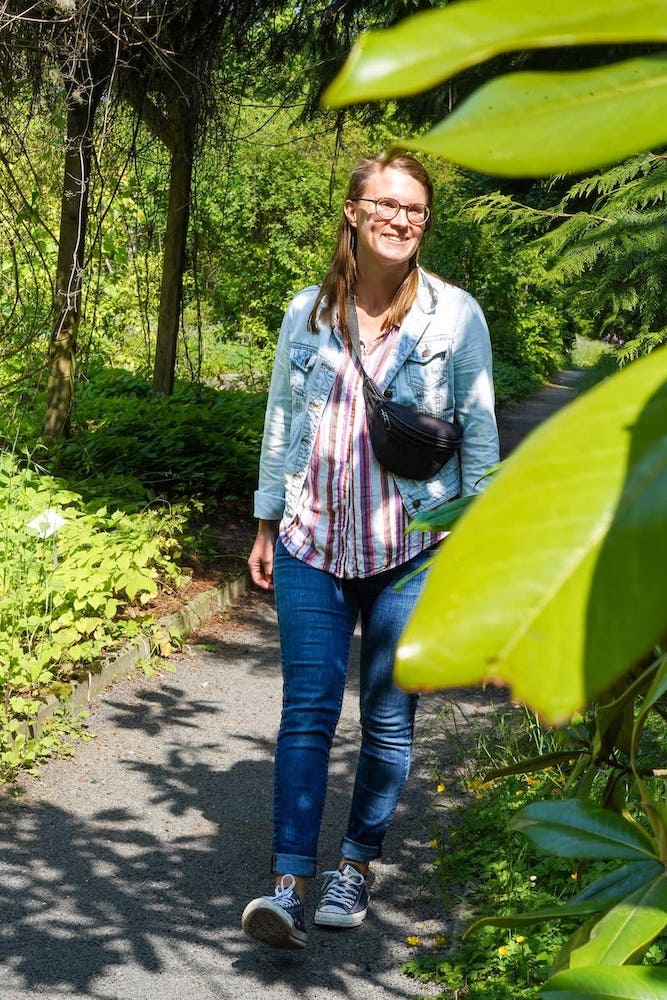 17 Cheltenham Park
Cheltenham Park is one of the many green parks in Göttingen.
This beautiful park offers plenty of green space for picnics and games. Several walking and cycling trails wind through the park, making it the perfect place to get exercise and enjoy the fresh air.
18 Schillerwiesen
Schillerwiesen is a large park that offers visitors a chance to escape the hustle and bustle of the city and enjoy some peace.
This beautiful green space features a pond, a playground, and plenty of benches and picnic tables where visitors can relax and soak up the sun.
Several walking trails wind through the park, making it a great place to go for a stroll.
19 Albani Cemetery
Albani Cemetery is a peaceful and serene spot where visitors have a chance to pay their respects to the deceased while enjoying some beautiful greenery.
This historic cemetery is also the resting place of the great mathematician, astronomer, and physicist Carl Friedrich Gauss.
Visitors can take a quiet walk through the cemetery and admire the beautiful sculptures and monuments that can be found throughout the grounds.
20 Heinz Erhardt Stele
To many foreign visitors, this stele may seem like a random dude standing around. But for many Germans, Heinz Erhardt was a famous comedian.
During the 50ies, Göttingen was one of five film studio locations in West German. Over 100 movies have been produced in Göttingen during this time.
This stele is within walking distance of the train station where one of the opening scenes was shot. My dad, being a kid at that time, remembers this scene quite well. By chance, he was standing with my grandmother and my uncle when they were filming. Since then, he has been seen in the background of that film scene.
21 Lokhalle for Concerts or Movies
The Lokhalle in Göttingen is a popular concert venue that hosts a variety of events throughout the year.
This historic building was once a production hall to build trains. It has been converted into a state-of-the-art concert hall that accommodates up to 7,500 people.
Whether you are a fan of classical music, rock, or pop, there is sure to be something on Lokhalle's calendar that will appeal to you.
If you are in the mood for a movie, you will be happy to know that Cinemaxx, a movie theater, is also located inside the Lokhalle.
You can check the program her: Lokhalle program
Shopping in Göttingen
If you're looking for a shopping experience in Göttingen, you won't be disappointed.
There are plenty of shops and stores that cater to different tastes and preferences.
22 Pedestrian Zone (Fußgängerzone)
One of the best places to shop in Göttingen is the pedestrian zone (=Fußgängezone).
It is a car-free area that is perfect for walking and strolling along the cobblestone streets.
You find a range of shops here, from clothing stores to bookshops to souvenir shops. It is a great place to find unique gifts and souvenirs.
Some of the shops you'll find in the pedestrian zone include H&M, Zara, and Thalia. There are plenty of smaller, independent shops that offer handmade items and unique products.
In addition to shops, the pedestrian zone also has plenty of cafes and restaurants. It's a great place to take a break and grab a bite to eat. You'll find everything from traditional German cuisine to international dishes.
23 Christmas Market in Göttingen
The Christmas market in Göttingen is a beloved annual tradition that brings the city to life with festive cheer.
Visitors can browse through a variety of stalls selling handmade crafts, delicious treats, and warm drinks.
The market is a great way to get into the holiday spirit and celebrate with friends and family.
The Christmas market usually starts at the end of November.
Spas and Pools
When we're in Göttingen, we love to take advantage of the city's great spas and pools.
Here are a few of our favorites:
23 Saline Luisenhall
The Saline Luisenhall is Europe's only remaining pan saltworks, where salt is still produced as it was 150 years ago. But the Saline is not only an industrial monument, it is also a great day spa.
If you are tired from walking around, why not float here like in the Dead Sea?
Inhaling the salty air cleanses the respiratory tract and improves blood circulation.
The Saline Luisenhall is a must-visit if you're looking for a relaxing spa experience.
Tickets and dates need to be requested through the website: Saline Luisenhall
24 Eiswiese
If you are looking for a more active pool experience, the Eiswiese is the place to go.
This pool complex has several pools, including a lap pool and a kiddie pool. There are two water slides and an outside pool.
I spent many days here during my childhood taking those slides and swimming around the pool.
There is also a sauna in the Eiswiese. You can purchase your ticket directly at the reception. Check out the admission prices here: Eiswiese in Göttingen
25 Freizeit Inn
The Freizeit Inn is a great place to go for a sauna experience.
The Vital Spa is in the Wellnesshotel Freizeit In Göttingen and has seven saunas, a Salina Lounge, and a spacious relaxation area.
There's also an outdoor pool, a beautiful sauna garden, and a pool bar for snacks and refreshing drinks.
You have never been to a sauna before? Don't worry! The staff will be happy to help you choose the right sauna for you and explain the most important sauna rules.
We recommend coming here if you're looking for a nice hotel as well as a good thermal spa and sauna experience.
The sauna opening hours are Monday- Sunday, starting at 8 am or 9 am until 9 or 10 pm, depending on the weekday.
Check out the admission here: Freizeit In admission
Castles near Göttingen
If you're a fan of history and architecture, you'll love exploring the castles near Göttingen.
Here are some of our favorites:
26 Plesse Castle
Located just 15 kilometers south of Göttingen, the Plesse castle is a must-visit for everyone interested in medieval history. This castle dates back to the 11th century.
The castle is open to the public and hosts a nice restaurant with vegetarian and vegan choices.
But the best part is: You can order the knight's menu.
This means you will eat in the vaulted cellar like in medieval times. But be prepared, you won't use your fork – this was a sign for the devil. You will get a bib so you don't spill on your clothes.
This is one of the best things to do in Göttingen! Doesn't it sound like fun?
The castle also offers a beautiful view over the Leine Valley.
See the website of the Castle Plesse
27 Castle in Nörten Hardenberg
The castle in Nörten Hardenberg is another great option for history buffs. Nörten-Hardenberg is located just 11 km by car or just one train stop from Göttingen, is Nörten-Hardenberg.
This impressive fortress is more than 1000 years old. This fortress is not open to the public, but you can book a tour for a small fee, see the website for more details.
If you want to learn how the original "Schnaps" (liqueur) is made in the Hardenberg distillery, there are open tours for the public every first Sunday of the month.
See the website for more information: Distillery Tour in Nörten Hardenberg
Final thoughts: 27 Best things to do in Göttingen
In conclusion, Göttingen is nice medieval town in Germany that offers a range of activities and attractions for visitors to enjoy.
With its rich history, vibrant culture, and stunning architecture, there is something for everyone in this beautiful German town.
For history enthusiasts, Göttingen's historic sites such as the Old Town Hall, Gänseliesel statue, Johanniskirche, and Jacobi Church provide a glimpse into the town's past.
The Bismarckturm offers breathtaking views of the city and surrounding countryside, while the Börner Viertel neighborhood with its half-timbered houses takes visitors back in time.
Nature lovers will appreciate the parks and gardens in Göttingen, including the Old Botanical Garden, Cheltenham Park, and Schillerwiesen. The Göttingen City Wall offers a unique experience to explore the city's history while enjoying scenic views.
Museum enthusiasts can visit the Göttinger Karzer, a former prison turned museum, and the KZ Gedenkstätte in Moringen, a memorial, and museum dedicated to the victims of the Moringen concentration camp.
Shopping enthusiasts will find plenty of options in Göttingen's pedestrian zone, which is home to a variety of shops, cafes, and restaurants.
The city also offers spa and pool facilities like Saline Luisenhall and Eiswiese for relaxation and recreation.
For those interested in castles, Göttingen's proximity to Castle Plesse, Castle Nörten Hardenberg, Castle in Adelebsen, and Castle Berlepsch provide opportunities to explore medieval history and architecture.
Overall, Göttingen is a delightful destination that combines history, culture, and entertainment. Whether you're strolling through the old town, visiting museums, enjoying the outdoors, or indulging in local cuisine, Göttingen has something to offer every traveler.
So put on your walking shoes and enjoy an unforgettable journey through the 27 best things to do in Göttingen.
Read more about Göttingen:
How to pronounce Göttingen (coming soon)
5 reasons why Göttingen is worth a visit (coming soon)